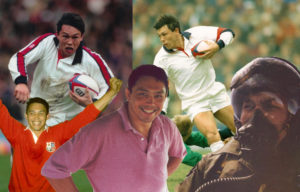 As a successful entrepreneur who has built companies in the Learning & Development and Consultancy sector, whilst navigating two financial crises, Rory knows about the challenges of growing a successful business and getting the best from the teams and people involved.
Rory is probably best known for his international rugby career. Not only for scoring a record 49 tries for England (85 caps, 1984-1996) but also for winning 7 caps for the British Lions touring Australia (1989) and New Zealand (1993). Rory played first class rugby at Leicester Tigers for an unbelievable 14 years and was awarded the MBE in 1992 for his services to rugby. Rory joined the Board of Leicester Tigers as a non-executive Director in Nov 2007 until October 2020.
Throughout this record-breaking rugby career Rory amassed 3000hrs flying as a pilot in his 18 years in the Royal Air Force. During his RAF career he flew the Jet Provost TMk5A, Hawk TMk1A, Tornado GR1, Canberra T17 and the Dominie. He was responsible for introducing Crew Resources Management (CRM) training into the RAF, thereby developing a culture where personnel look at how teamwork and decision making is affected in time limited stressful situations.
Rory founded Wingman Ltd in 2009, where he utilises his 14 years of playing rugby at the highest level and 18 years of flying fast jets in the Royal Air Force and applies these experiences of operating in a high-performance environment to the challenges faced by CEOs, MDs and Business Owners as they try to grow their businesses.
His specific interest and expertise in the areas of effective communication and high performance leadership within teams, coupled with his experience and insight gained through his stellar rugby and RAF career, allows him to bring a different perspective into the performance of business teams.
Rory incorporates his inspirational experiences with practical performance activities creating an environment for delegates to explore and challenge their view of teams and how they can make an impact within the business. He explores and challenges delegates about their understanding of teams, high performance and how to measure it.
With over 20 years of working with businesses of all sizes and within a variety of sectors, Rory brings a different perspective to your stereotypical 'team building' workshop. Rory has collated all the issues and challenges that face leaders and managers as they try to grow their business and created a strategy implementation methodology called LIFT that enables organisations to deliver their strategy effectively. He explores the relationship between values and motivation that is bound together by trust to enable you to create and sustain a high performance team ethos within the organisation.
As a thought leader, Rory also presents on business strategy at the University of Surrey and the University of Leicester's School of Business. He was also honoured to receive a Doctorate of Science from the University of Teesside in July 2022.
Golf days & charity events